SEATRIC Medical
Clinic Corporation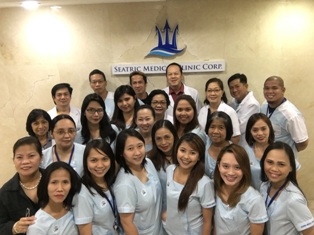 SEATRIC MEDICAL CLINIC CORP., was established on August 12, 2016 by group of individual professional decided to put up a medical clinic, consolidated their resources together and envisioned a service oriented facility. Considering that the other owners are not in the medical field but with ardent dedication and determination, a medical clinic was conceived, whose ideal is to promote healthcare and quality Pre Employment Medical Examination to clients and the public as well.
Since the clinic was established, its vision, to be the number one Filipino Medical Clinic which will cater Filipino overseas both land based and sea based worker and also the general public.
SMCC's mission of being an employee of the overseas contract worker is fully aware of the necessary medical assistance, urgency of services and other requirements specific to recruitment and placement agencies due to its member company. And to provide the specialized medical services it could offer to meet these outstanding needs.
With an experienced staff, the Clinic manages to keep expenditures at a low level while performing at a very high level of standards. With a competent staff of medical practitioners and an exceptional management team behind it, SMCC is in track to give a glory days.
SEATRIC MEDICAL CLINIC CORP., is independently operating and has its own legal capacity.
The President and Medical Director
Dr. Normando T. Sta Ana, Jr., is largely responsible for planning, obtaining, monitoring and general control of clinic activitiesw. The Medical Director will oversee the manning, management and administration of the clinic.
BGEN. NORMANDO T. STA ANA JR. AFP (RET)
Doctor of Medicine
Fellow, Philippine College of Radiology
Fellow, Ultrasound Society of the Philippines
Master in Management Major in Hospital Administration
Master in Management Major in Public Administration
The Vice President and Chief Operating Officer, Ms. Thelma Manuel Makalintal, a graduate of engineering has been with OFW clinic administration for 17 years. Twenty One (21) years of her career was with broadcasting, radio, television, both for administration and marketing.
SEATRIC Medical Clinic Corp., provides and maintains adequate facilities necessary for its efficient delivery of the required Pre Employment Medical Examination and related services. The clinic maintains its top of the line equipments.
SEATRIC Medical Clinic Corp shall provide quality health care that meets the requirements and expectations of our clients/patients and continuously improve the quality of our services and bring our employees to their highest level of competence.